Why Materials Matter to Accelerate Learning

Thursday, August 20
2pm PT / 4pm CT / 5pm ET
Facilitator: Shannah Estep, EdReports Senior Outreach Specialist
Special Guest: Cory Epler, Academic Officer and Administrator for the Office of Teaching, Learning, and Assessment at the Nebraska Department of Education
With uncertainty around how school will be conducted in the fall—in person, virtual, or a hybrid—high-quality instructional materials will make a critical difference to ensure teachers have the content they need to address the diverse needs of students. Participants will walk away from this discussion with a clear understanding of the research supporting high-quality instructional materials, key data points on why materials matter for students and teachers, and insight into how school systems are prioritizing materials and the impact on student and teacher experience.
---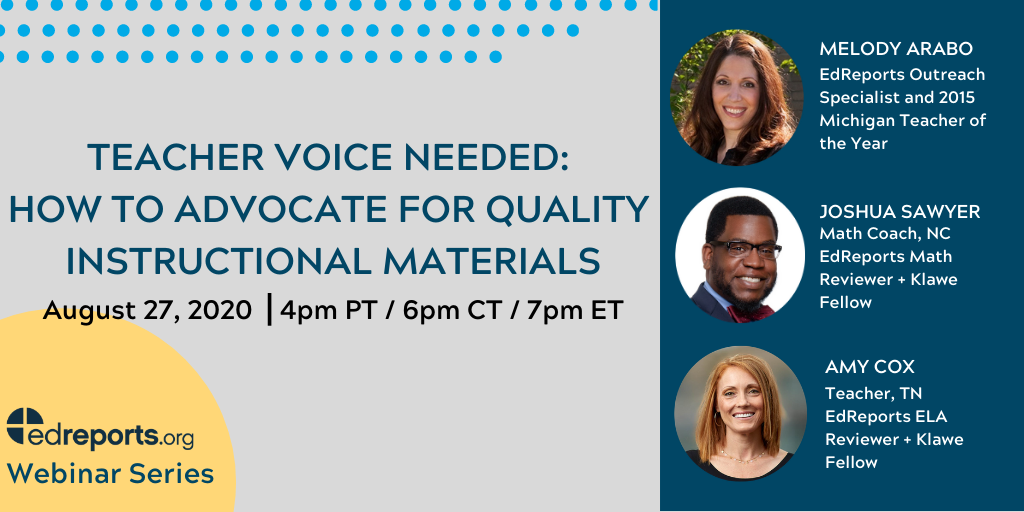 Teacher Voice Needed: How to Advocate for Quality Instructional Materials

Thursday, August 27, 2020
4pm PT / 6pm CT / 7pm ET
Facilitator: Melody Arabo, EdReports Outreach Specialist and 2015 Michigan Teacher of the Year

Special Guests: Amy Cox, Teacher and EdReports ELA Reviewer + Klawe Fellow; Joshua Sawyer, Math Coach and EdReports Math Reviewer + Klawe Fellow
In this new world of remote learning, most districts are evaluating the resources they'll be using in the fall and with good reason. Without standards-aligned materials, students are unlikely to have access to coherent content. The choices districts make about instructional materials will impact teachers and students the most. What's more, since teachers use instructional materials daily and are closest to the needs of the students in their classrooms, they have a unique lens into what works and what should be considered when selecting new programs. In this webinar, learn three ways to advocate for high-quality instructional materials and hear from educators who have successfully used their voice to advocate for quality.
---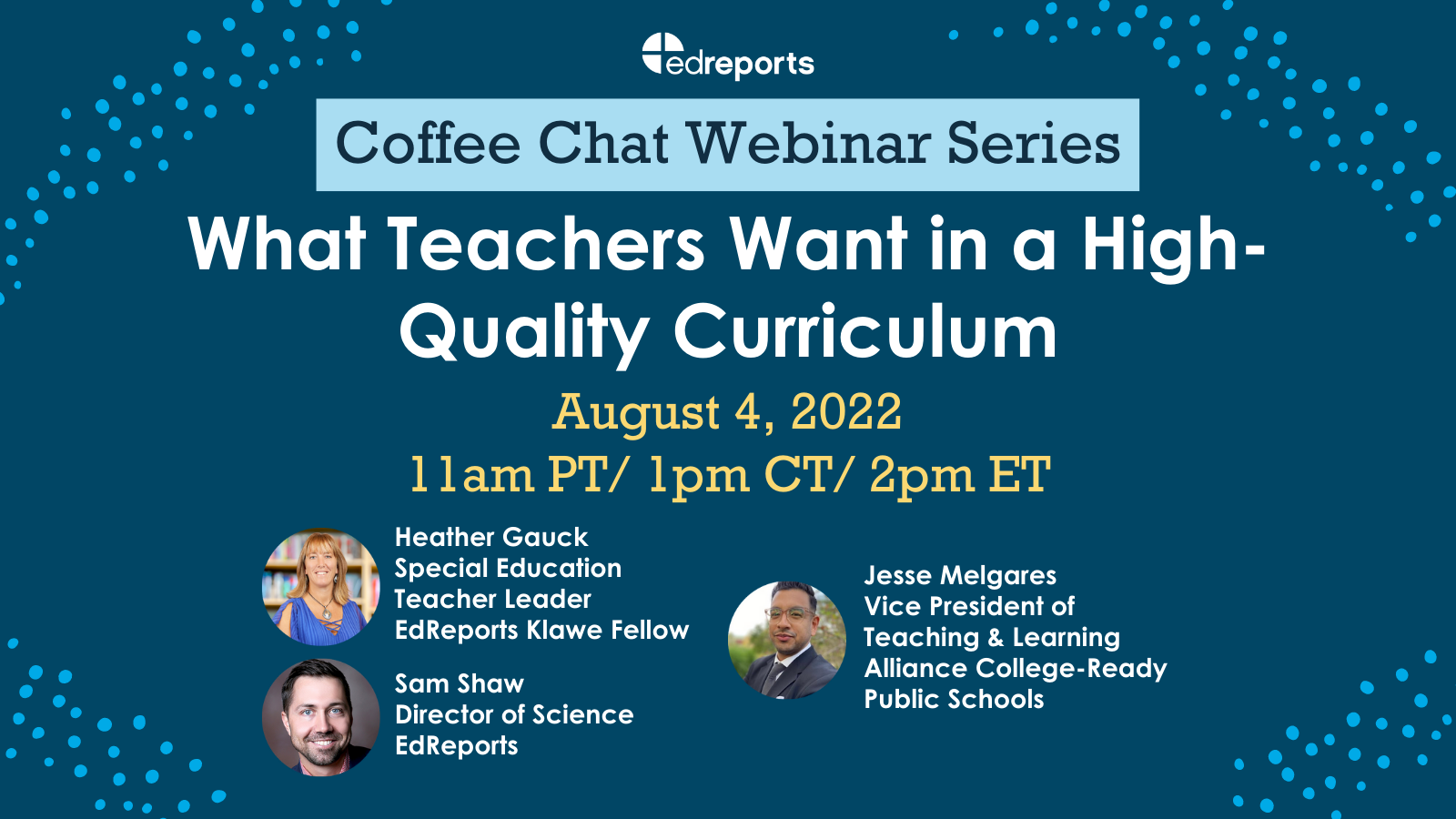 Do Your Materials Support Remote Learning? How to Use EdReports' New Technology Information
Thursday, September 3, 2020
1pm PT / 3pm CT / 4pm ET
Facilitators: Courtney Allison, EdReports Chief Academic Officer and Jess Box, EdReports Director of Field Services
As school systems prepare for distance learning and hybrid models this school year, understanding the technology capabilities of your instructional materials is more critical than ever. Beginning in summer 2020, EdReports invited publishers of standards-aligned materials to submit additional information about the technology features of their programs. This information helps educators to better understand the digital design and capabilities of instructional materials, including interoperability, compatibility, security, and support. Participants in this webinar will walk away with a better understanding of the technology information collected by EdReports and how to use that information to support learning this fall.